Transmission by 2-core
Only 2 wire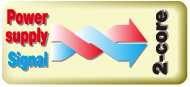 Since the AnyWireASLINK system employs a power supply superposition method, it can transmit power and signals in 2-core using a 2-wire type (non-insulation) type terminal. In addition, if current capacity on the load side is large, a terminal of a 4-wire (insulation) type which can locally supply power can also be selected by separately preparing a power source.Furthermore, a system in which these two terminals are mixed can be built.
Any transmission media (electric wire) can be selected
Media Free

Inexpensive general-purpose cabtire cables which are available from anywhere can be used. Even spare electric wires and electric wires which have already been used in another system can be used as they are in the high noise resistance AnyWireASLINK if they have electric wire diameters which are within the operating condition range. The link connector (only for 4 poles) for a cabtire cable is also available.
(Note) Contact us separately for details on the use.
No limitation in branching
Topology Free

AnyWireASLINK system allows for fiexible branch and connection. There is no detailed regulation such as designation of the branching method and minimum distance between the respective terminals, and various wiring methods such as T-branch, multi-drop, star and tree wiring can be selected, and there is no problem even if these methods are mixed.
* It is recommended to wire with T-branch in order to easily isolate at time of trouble.
* It is recommended to decrease the number of branches wherever possible for stable transmission.
Easy connection and easy branching
EZ 连接
Usability which conventional types do not have is achieved by using the AnyWire link connector


High noise resistance
Noise resistance
AnyWireASLINK system is
| | |
| --- | --- |
| ①Different in transmission voltage: | 24V DC compared to general 5V DC. Greater margin can be taken for noise. |
| ②Different in transmission clock: | 27kHz compared to general approx. 3 to 10Mbps. With a sufciently large clock width, hardly susceptible to noise. |

▲ Page top